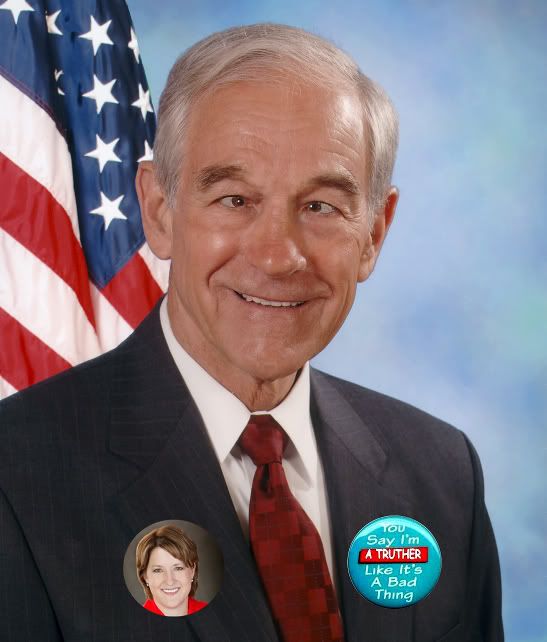 If you have a blog you know how strange these people are. You can't even think about saying something about Ron Paul without these screwballs swooping in on your site to defend him. I spend more time blocking Paulbots than I do blogging these days. And I have been pretty nice to their fearless leader.
Who are these people? You might not want to know!
Do you remember back in 1999 when you were getting a kick out of those nuts who were hording food, ammo, and medical supplies in preparation for the millennium bug? Did you ever wonder what happened to them? You would think that they would have marked freaking out over this nonevent up as a life lesson, and then moved on a little bit wiser.  But nope,  they are now following Ron Paul.
The only difference is they are now looking for Ron Paul to hoard up America's resources and make friends with the aliens from Planet X "Nibiru" that is hidden on the backside of the sun. I am not trying to BS you here.
After Planet X comes streaking close to earth and causes a global catastrophe, the markets will crash. The only way we will survive is if we are on the gold standard — hence the need for the "White Night," Ron Paul.
It is now or never for these nuts because the end of the world as we know it is happening sometime this December! This is why they are soooo motivated.
This is what the larger part of the Paul bots believe. But incredibly some of  really crazy ones actually think that Paul is one of the aliens from Planet X himself. One of the aliens who are shape shifting x-men types that are reptilian — BTW.
What is scary is these are not just a few nuts who have joined the Paul camp. This is the large part of the Paul camp!
Don't believe me? Go look for yourself.
I challenge you to get on Google and type in Planet X "Nibiru" with Ron Paul in the search line.
You can't make this stuff up.